MAKO – Robot assisted surgical procedure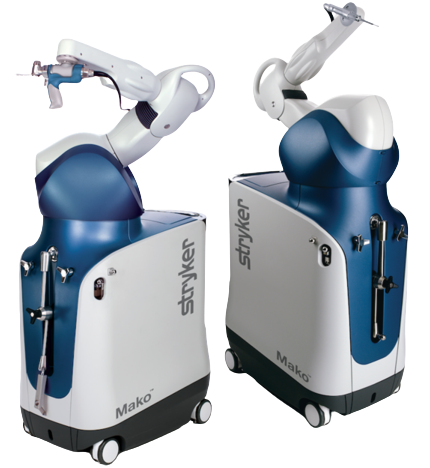 Only a few clinics work with this innovation: The MAKO Smart-Robotics® System is a robot-assisted surgical method that allows partial dentures to be implanted with millimeter precision.
What is robotic assisted surgery?
If the joint has to be replaced by an implant in the course of life, artificial joints (endoprostheses) are usually used. In the meantime, endoprosthetics has reached a high quality standard in the field of orthopedic surgery. This is now being raised to a new level with the help of robotic assistance. With the support of MAKO Smart Robotics®, work can be planned and performed even more precisely.
What does MAKO do?
Even before the operation, an individual 3D image of the damaged bone is created. With the help of this image, the optimal size and position of the implant can be prepared. Predefined reference points on the patient's bone provide information about the exact positioning. The neighboring soft tissue with its muscles, tendons and ligaments is also precisely recorded so that it cannot be damaged.
The robot is not used until the endoprosthesis is precisely positioned. The control is now assisted by the robot so that operations can be performed with millimeter precision. This allows the surgeon to implement the prosthesis with greater precision than ever before.
The handling of such new techniques requires great experience and additional training. Professor Becher, Professor Thorey, Professor Siebold and Professor Thermann are certified MAKO specialists at the ATOS Klinik Heidelberg.
Mako SmartRobotics® specialists
The specialists Professor Becher, Professor Thorey, Professor Siebold, and Professor Thermann are among the few specialists in Germany who have specialized in the new surgical procedure Mako SmartRoboticsTM®. Only specially trained and certified personnel are allowed to use the novel robotic arm-assisted surgical procedure for joint replacement at the hip and knee.